Kickbooster's Pledge Manager Is Now Available To Every Creator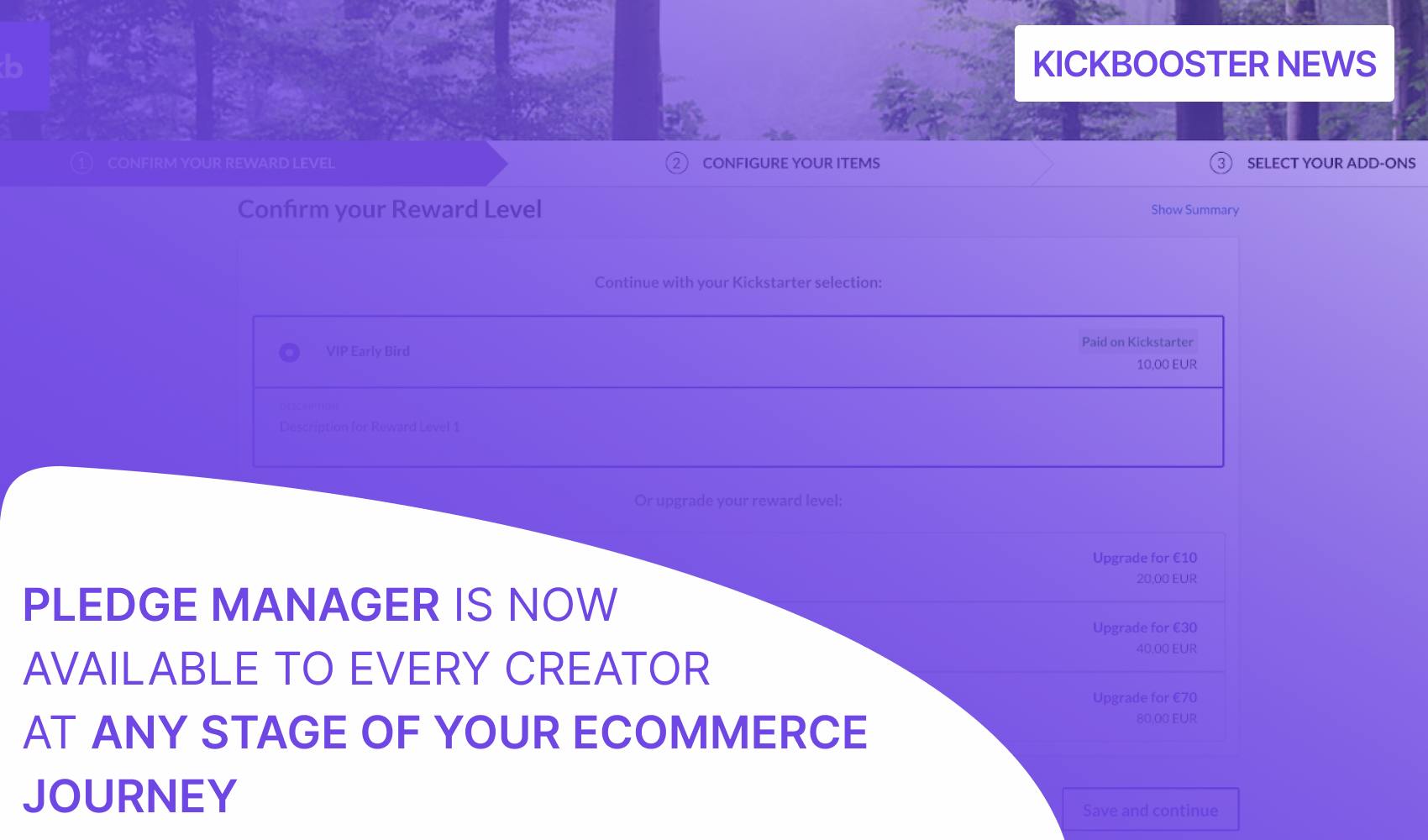 We are opening our door to creators at any stage of their ecommerce journey and making it easy for you to fulfill pledges and earn funds, even after your campaign is over. 
You no longer require an ecommerce store to connect to our Pledge Manager. If you are a Kickstarter or Indiegogo creator, you can use Kickbooster's Pledge Manager to design your backer survey, create products, manage shipping and tax settings, connect payment gateways, and more without connecting to an online store. 
We've helped our users raise an additional 24% of total campaign funds through the Pledge Manager surveys, which includes new sales and shipping fees for various countries around the world. We also saw 27% of backers purchase add-ons and upgrades upon receiving their survey. 
So whether you're a first time creator or a seasoned veteran, our Pledge Manager is your must-have post-campaign tool. 
Check out just a few cool features of Kickbooster's Pledge Manager: 
Continue Raising Funds After Your Campaign Is Successfully Funded
Include add-ons and reward level upgrades in your backer survey, this can encourage backers to spend more and increase the average pledge value per backer. 
Since most campaigns usually last 30-60 days, creators only have a limited time to raise funds for their project. Backers are there because they are excited about your project. Receiving a survey means that they are one step closer to getting their reward. Give them a chance to increase their pledge by purchasing add-ons, or upgrading to a higher reward tier.
Performance-Based Pricing Model
At Kickbooster, we believe in performance-based pricing – we succeed if we help you do better. Our pricing model is driven by a commission-based approach that only takes a cut of what we help you raise in addition to a competitive activation fee that is not required until you are ready to start sending your surveys.
Our performance-based pricing does NOT include a fee for any shipping fees collected through the survey, which can translate to significant savings compared to other options.
Learn more about our flexible pricing options here.
Recover Pledges
Every pledge counts but there are times that pledges fail to be collected; the backer's credit card expired, they had insufficient funds, or the transaction got blocked by their credit institution.
Kickbooster's Pledge Manager allows you to import your failed pledges, and gives them a chance to claim their reward by topping up their payment through the backer survey.
Learn more about how our Platform Agnostic Pledge Manager will seamlessly transition your project from fundraising to selling and book a demo today!