Special Announcement: Introducing the new and improved Kickbooster 2.0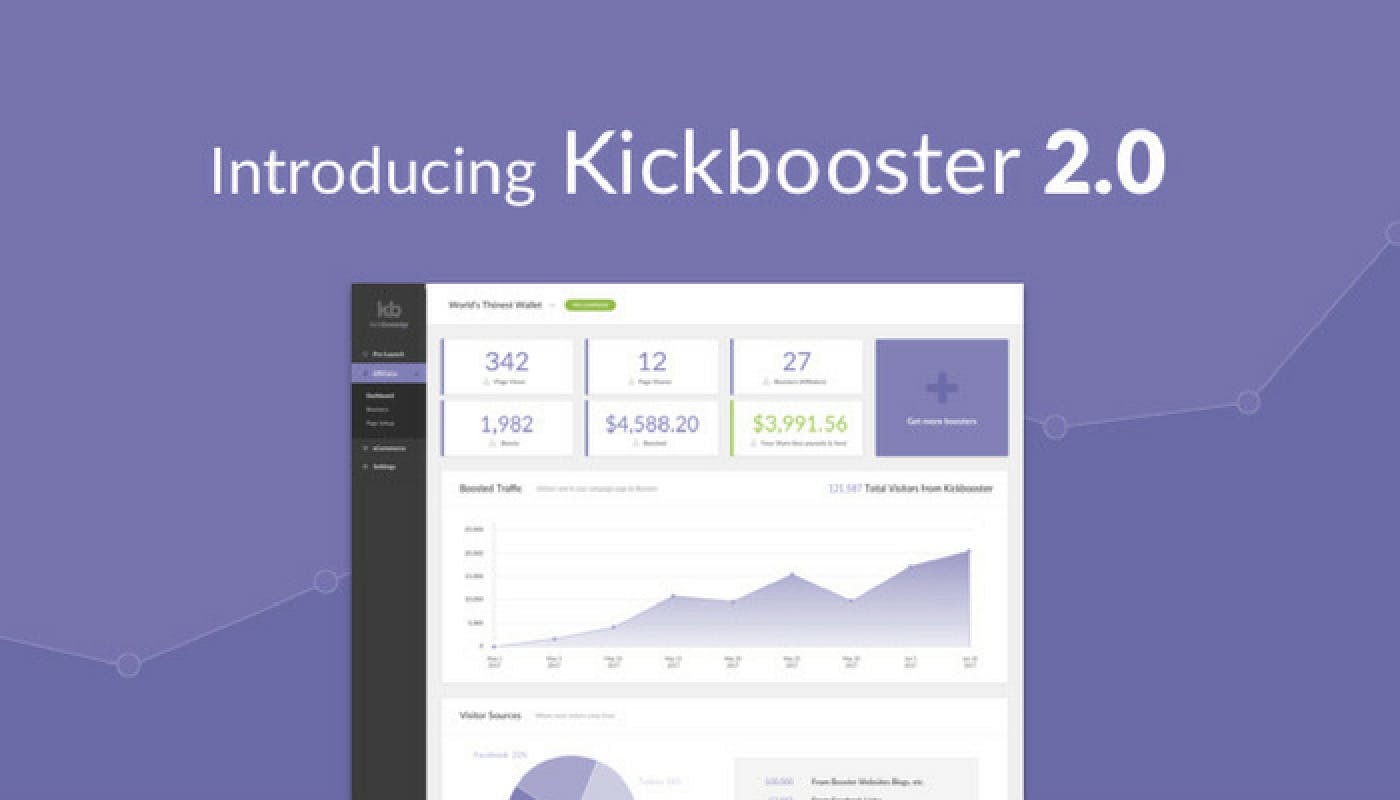 We're so excited to announce that Kickbooster has been totally redesigned and rebuilt from the ground up! We mean, totally redone- a whole new UI, great new features and a stunning makeover (who doesn't love purple) to help you guys make the most of Kickbooster and reach your funding goals.
So, read on- We're highlighting our favorite upgrades featured on the new Kickbooster.me.
Start the hype early
The absolute best thing you can do for your campaign is build a community of followers before launching.
Listen, spreading the word about your campaign isn't easy- we totally get it! You have limited time to get as many eyeballs on your campaign as possible and Kickstarter has an all or nothing mentality for campaigns to reach their funding goal. 30 or so days to pitch your products to the world? Tough crowd. Don't worry though, we're here to help!
This is where pre-launch pages come in.
A simple, easy to use tool that allows you to spread the word about your campaign before it's even live. Start a buzz about your campaign and collect email sign ups (called leads) to create a network of loyal backers and affiliates who are interested in your campaign.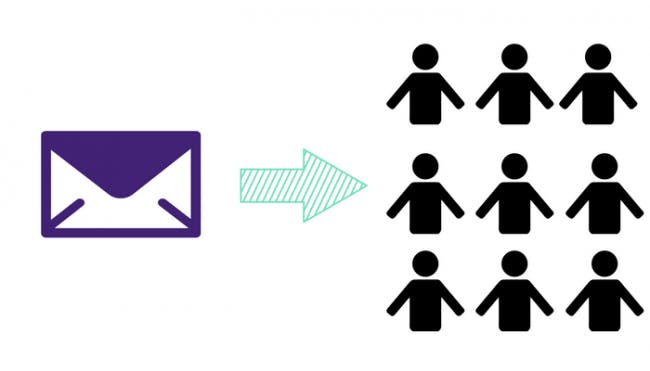 You spread the word, and the people will come to you! This is an amazing time saver to build an online following, which is no easy feat so the earlier you can start, the better! 
How it works
Once you've created a Kickbooster account, you'll have instant access to start building your Prelaunch Page. After setting your page live, the next step is to share it with the world! You can send it to friends, family, coworkers and any contacts you may have! 
The page contains a button where people can input their email and voila! It pops up on your dashboard where you can see who's signed up and when they've signed up. Plus, you can export this list of email addresses with the click of a button!
Pretty soon, we can extend the referral program to include pre-launch. Meaning, boosters can start spreading the word about your campaign before your launch day, creating even more hype!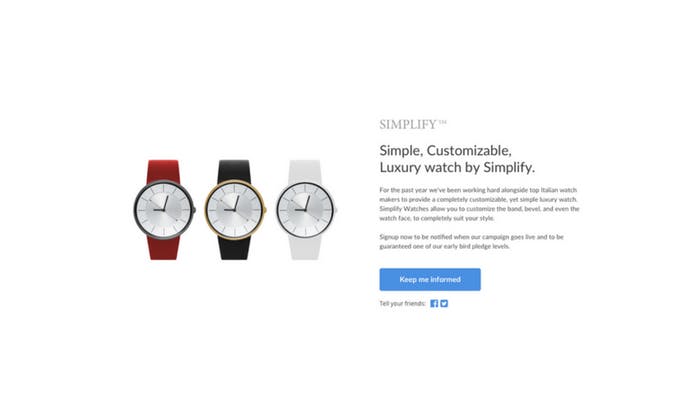 Interested? Learn more about Pre-launch.
Redirect those links!
After your crowdfunding campaign is over, you'll need to think of the next steps (after popping some bubbly of course!)
A late backer page or a website is a smart move to keep the orders flowing and you can continue to use Kickbooster to help out!
Your Kickbooster referral program allowed boosters to generate links and spread the word about your campaign. Once your campaign is over, the links used in their promotions would continue to direct to your completed Kickstarter page. That is… until now!
Kickbooster now allows you to redirect your booster links to any website or pre-order page after your campaign is over, which means all that traffic will follow you!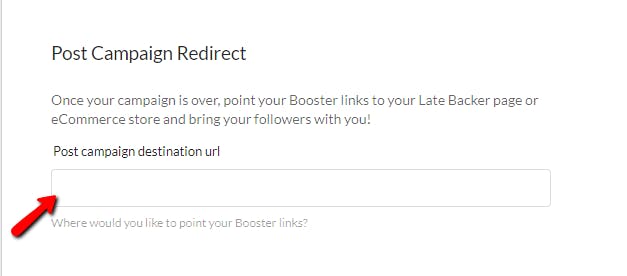 Let's say you were featured on a high-traffic media outlet. The traffic on that article could be directed to your Shopify store, website or maybe even your Indiegogo Indemand page to keep the momentum going!
You can see all the momentum you're getting straight from your dashboard. The campaign dashboard is more informative- now including boosted traffic over time. We've added more detailed titles and better instructions to help increase your chances of success!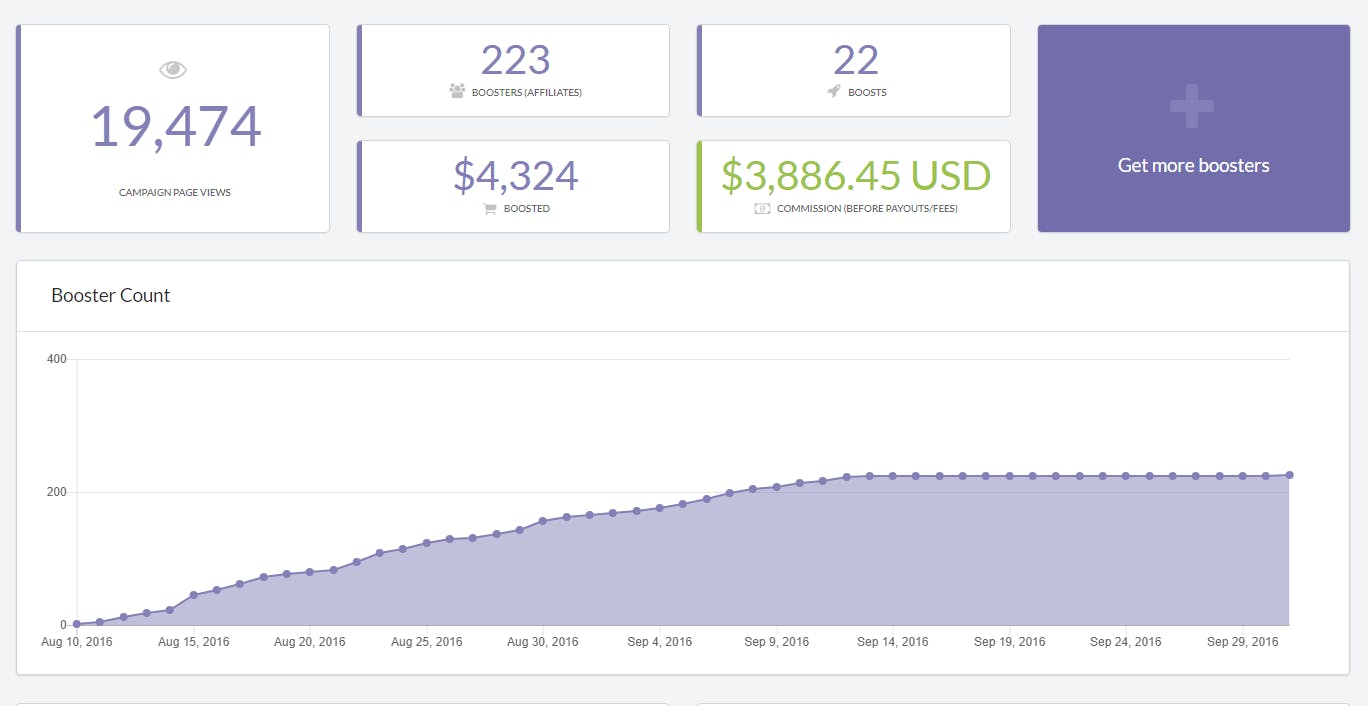 Further down the road, boosters will have the ability to make commission off these links, providing even more incentive for them to continuing promoting your product(s). Right now, it increases and drives traffic to your post campaign destination, including links already out there!
Marketplace 2.0
On top of sharing your campaign on social media, you can also tap into an already existing network of boosters right here on Kickbooster.
When you add your campaign to the Marketplace, thousands of boosters can choose to promote it, because this is where they look to check out cool campaigns they want to share! Plus, we've made some improvements we're sure you're going to love!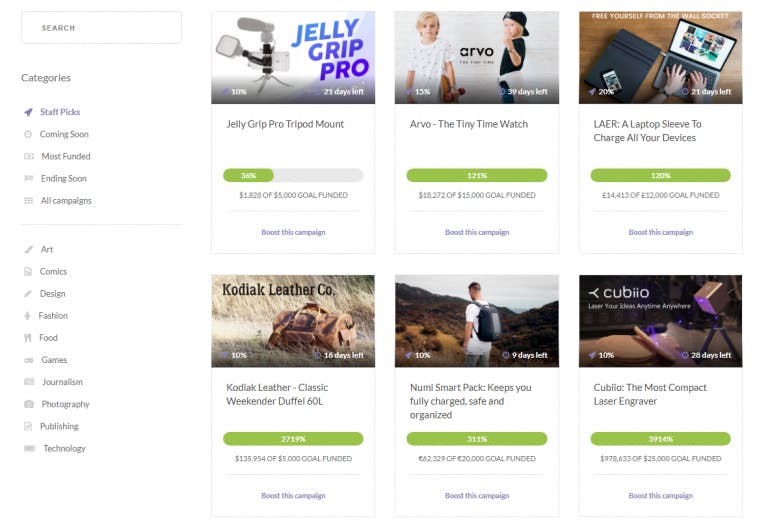 The original filters, Staff Picks, Most Funded and Ending Soon, allow boosters to search based on timing and success of campaigns. To assist boosters in their search, new filters based on product type have now been added. These filters are pulled directly from Kickstarter, creating a seamless flow between the two platforms.
Plus, a new Coming Soon feature will be added to increase the hype around your campaign by showing off your pre-launch pages. Boosters will be ready and waiting to spread the word once your campaign goes live!
We've also added a campaign spotlight section to the top of the Marketplace page to highlight featured campaigns, similar to the Staff Picks page but way bigger!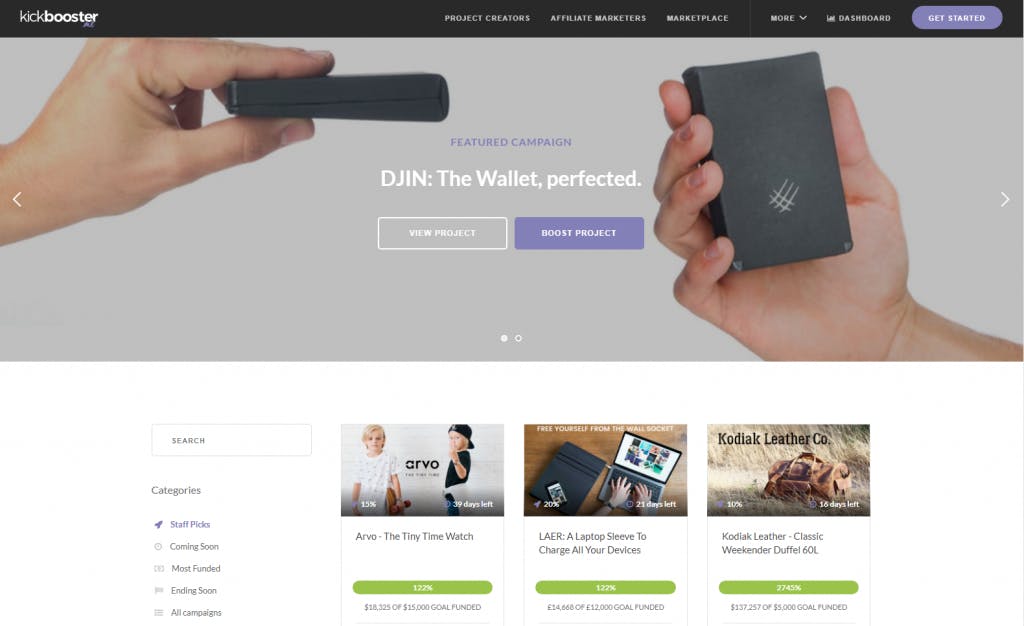 It will definitely be the first thing people see on the Marketplace, which is great exposure for your campaign! Our team hand picks our favorite campaigns to be featured on our Staff Picks and Featured campaigns section. Keep an eye out to see if your campaign is selected!
Our platform was designed specifically for you, by you. Seriously- we're listening! Without your constructive feedback and support, Kickbooster wouldn't be where it is today. Check out the new site and play around for free before signing up!  We hope you enjoy the new features as much as we do. There are even more features right around the corner, (like an integration with another big crowdfunding platform) so keep your eyes peeled for upcoming news! 
This is just the beginning… Welcome to Kickbooster 2.0!